A message from Jacob:
Thank you to Rebecca Massey for the huge financial and emotional support provided in making this album. I could not have done this without Rebecca's help and I am forever grateful.  We have known each other for 2 decades and she has always been a true source of my love and inspiration. I can't thank her enough for being there for me and believing in my dreams.  
Thank you to Jim and Joan MacMillan (my parents) for the financial and emotional support too. I am very lucky to have supportive loving parents. I thank them for the opportunities growing up that allow me to pursue a life of music. Thank you for everything.
While living in Grand Forks, BC I met Sacha and Michel Joseph Pétulli. They run PMT Studio and provide a practice room,instruments, sound equipment and a recording studio. After hearing and jamming my originals they were interested in recording my first solo album. I have enjoyed learning from their musical experiences as well as their expertise on sound engineering and mastering. They have been like family to me out west and I can't thank them enough for always making me feel at home. I look forward to continuing to create music with PMT Studio.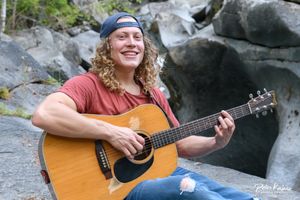 THANK YOU
I would love to thank everyone in detail but that would take a novel. Instead,  I will list names of friends, band mates, music teachers, and family that have helped me grow, learn and play. Thank you from the bottom of my heart to:
Harry Powell
Catharine Powel
Barb MacMillan
Doug MacMillan
Jim MacMillan
Joan MacMillan
Heather MacMillan
Morgan MacMillan
Crawford Hunter
Jonathan Mink-Rice
Nathaniel Mink-Rice
Pat DeCourcy
Debbie Mink
Steve Mink
Jordan Casagnette
Trish Hartman
David Hartman
John Hartman
Arley Massey
Mary Massey
Bob Massey
Steve Millar
Ryan Scherer
Kyle Merrit
Brent Robitaille
The Winters
Blake Smith
Louis Léfaive
Evain Maurice
Tim Haats
Steffan Walma
Madesta B
Elyse Silverman
Matt Schae
Darcy Pietrasik
Sacha Pétulli
Michel Joseph Pétulli
Michelle Croissant
Leif Churhill
Mike Oneill
Jam Chato
Drew Oliver
Mark Wolford
Sarah Orlowski
Vinnie